Bilskräddarna i Skandinavien AB started in 1990 as a traditional car saddle factory in Stockholm. We have extensive experience in the industry and in the craft, with master's degrees in the profession. Since 2007, we have had the agency for leather upholstery and deliver to Swedish Volkswagen Transportbilar, among other things. We collaborate with Axess Logistics (PDI services) for the port assembly of upholstery for new cars. In 2010, we registered the company name Standard Leather Sweden AB as a subsidiary of Bilskräddarna i Skandinavien AB. In addition to car upholstery, we offer products for the public environment, we have, among other things, been involved in developing a prototype of an office chair for Kinnarp. We are members of Sveriges Tapetserarmästare.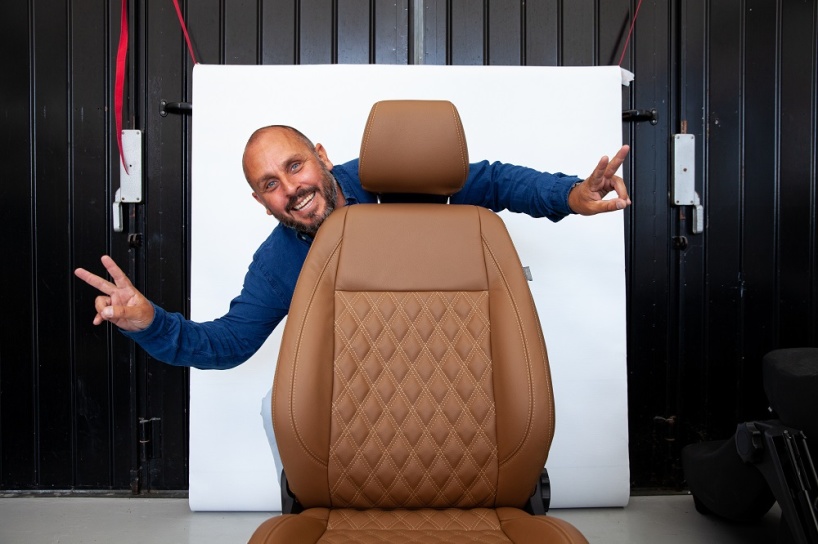 2020 - Moves to Södertälje and begins cooperation with Zenith Automotive.
2010 - Registered new company name, Standard Leather Sweden AB, as a subsidiary of Bilskräddarna.
2009 - Agreement with Volkswagen AG in Wolfsburg / Swedish Volkswagen Transportbilar.
2007 - The agency of leather upholstery and transforms the company into AB.
2006 - Moved to larger premises in Länna Industrial Area, Skogås.
2004 - Initiated cooperation with Toyota (mainly Taxis).
2003 - Initiated cooperation with an international company that manufactures leather upholstery.
2000 - Participated in the development of the prototype for the upholstery for SAAB 93 and 95 at Faurecia in Staathagen, Hanover, Germany.
1996 - Master's degree in car saddle making.
1995 - Moved to premises in Motorborgen in Huvudsta, Solna.
1990 - Founded Bilskräddarna i Skandinavien HB, located in Midsommarkransen.

We offer customized leather upholstery with high quality at the right price , to corporate and private market in Sweden.

Svenska Volkswagen, Peugeot, Nissan, Toyota, Scania m fl.
Help us to become even better, tell us what you think on Reco.se!

Mats B wrote.....Great service record written team! Professionals artisans.

Rickard I wrote .....Very good and professional treatment and skilled professionals .

Joakim C wrote...They are very open to receive and deliver custom solutions , such as double seam / embroidery etc. Quick delivery and the ability to get it assembled & ready to go!